'Play Space!' with Gabriella de Polo-Saibanti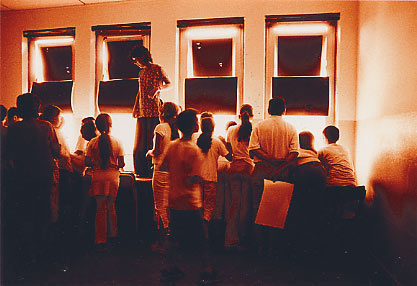 The first proof that we exist is that we occupy space.
(Le Corbusier)


Urban space and architectural space are signs and as such act as a form of communication. Today, however, a condition has arisen, that was described by Victor Hugo when he denounced people's inability to read cathedral sculptures and bas-relief, once constituting a real biblia pauperum.

Present-day children, confined within protected city spaces and rushed through these areas without being able to study the details, are incapable of understanding cityspaces seen only for a moment.

Play Space!, a project created and curated by Gabriella de Polo-Saibanti, helps children rediscover the pleasure of architecture through a series of spatial experiments which differ depending on the participant level, conducted within schools and throughout the city.

A playful, interactive technique will be adopted: play is essential for children to learn about space.

Architecture should not only be observed; it must be tasted, heard, touched and smelled, in other words, lived in its most secret and intimate details: children can speak 100 languages.

The participants are engaged with stimulating questions, capable of generating new theories based on personal experience.

This project does not provide sciolistic information nor standard answers. The aim is to raise doubts and to trigger curiosity.

Play Space! is a challenge set for people who wish to help children enrich their city and their perception of architecture.




 

Proposals for primary and secondary schools
Activity name: Play the class

The classroom is transformed into a construction game, made up of desks, students, chairs, pencil-cases, empty and full spaces.

After having shaken up everyday spaces by way of alternative routes, daily spaces acquire an original meaning for children.

Activity name:
Dream space

An installation specially produced with a pinhole and mobile surfaces creates transormable space: interchanging the real and the imaginary. Children are called upon to read the space and are free to interpret it in their own way.

Activity name:
City Game

The city, with its spaces, buildings and past events, has become a source of study to be actively interpreted so as to unveil its secrets. Children, who tend to attribute body and soul to objects, are brought to discover the genius loci within urban spaces (the spirit of the place).