Scelet and Mass by Guja Dogg Hauksdottir
This project deals with the basic structures of building and is set up as a "learning by doing" project as the kids - aged 14-16 in a secondary grammar school - are to work in models; for the "skelet" building in wooden sticks, for the "mass" building in plastic clay. They get a function to live up to: (a) a tower for bird watching or life saving and (b) a room for mediative withdrawal, and have to deal with or express the latent character and "will" of each material / structure. This project was a part of a bigger one at the Reykjavík Art Festival 2004, where I sat focus on the oldest shopping street in Reykjavík - which is interesting because of the patchwork of buildings of all ages and styles from 1880 to our days.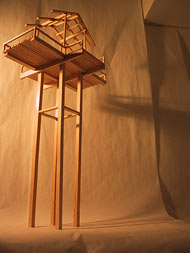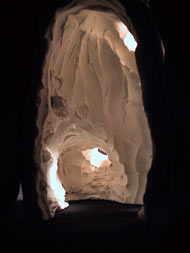 scelet                                          mass
The theme for the kids aged 17-19 was "Genius Loci" or the spirit of the place and was dealt with both in 2 dimensional analysis on a personal basis and on the spot with happenings and exhibition on the street. The kids looked at mapping different phenomena at the site, and finished the work in a digital manner, represented in various media on street level.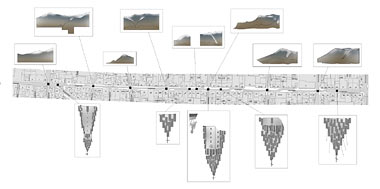 genius loci