Space in Question
 by Laurent Tardieu

arc en rêve centre d'architecture Bordeaux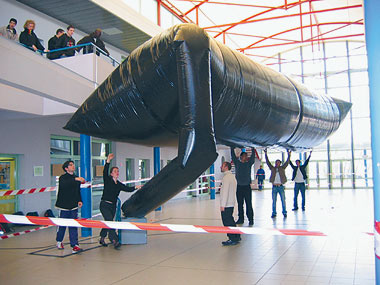 Project name: 'the agora'
Group age: 16-19 year olds, 15 pupils
Duration: 4 months
Results of the project: booklet for the regional council, proposal for an installation.
Finances: 50% Ministry for National Education, 50% Ministry for Culture (DRAC)
The idea of the educational workshop is to create and diffuse a series of activities to make young people more aware of architecture. In the framework of their cultural project on architecture, the pupils visited an exhibition on architecture and engineering, Informal -Cecil Balmond, and the Law and the Law Balmond Court at Bordeaux, designed by the architect Richard Rogers. Talking about these projects contributed to making the students more aware of contemporary design.
Two workshops (on traces and inflatable structures), which animated 'the agora', made it possible for the pupils to better understand the value of this space and the functional contradictions that emerged from it. They realized that the immense space could be exploited to make an 'inhabited' place. They felt considerable interest in investing in 'the agora, in order to facilitate its appropriation by the users.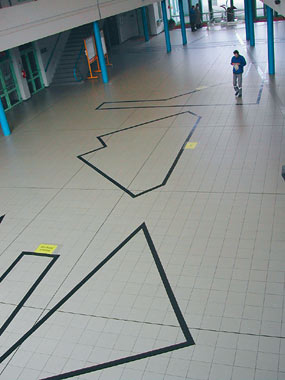 Learning how to see and understand contemporary architecture - this was the work completed by this class at the educational workshop in order to empower them as citizens to be critical and sensitive to the quality of the architecture of their high-school. The idea was not to get teenagers to play at being architects, but rather to give them access to the different delights and opportunities that architecture has to offer.
Taste exercise
Teenagers are confronted with the designer's work: form, material, technique, colour, matter, light, space ... what creates the space, what causes emotion. That is the experience of the pleasure of discovery; pleasure in seeing, pleasure in understanding, pleasure in learning.
Critical exercise
Architects' projects are selected to show works in different ways and to question them from different angles: economy, aesthetics, function...
Judgement exercise
This is the training of a certain critical faculty regarding the quality of a building. It is appropriate here to discuss quality, to explain the strong points and the weak points. This is an essential moment in teaching dynamics, setting things in a situation of responsibility.